Macadamia Nut Caramel Squares
alligirl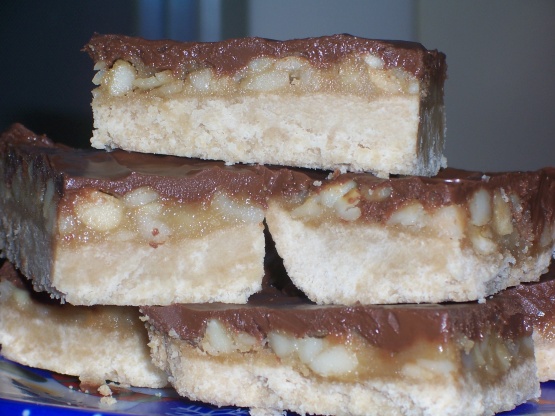 A recipe from "Heavenly Brownies", a book given to me by my Cookbook Swap mate, Jubes. The cookbook is from the UK, which is why European measurements are given. You may easily convert them by using the site I frequent, http://www.onlineconversion.com/cooking.htm, and using the weight to volume converter to go from grams or ounces to cups.

Came out great for me and they were enjoyed by my whole family! Delicious!
Base

4

ounces macadamia nuts (115g)

10

ounces flour (280g)

6

ounces brown sugar (175g)

4

ounces butter (115g)

Topping

4

ounces butter (115g)
3 1⁄2 ounces brown sugar (100g)

7

ounces milk chocolate chips (200g)
Preheat oven to 180C/350F/Gas Mark 4.
Coarsely chop the macadamia nuts. To make the base, beat together the flour, sugar, and butter until the mixture resembles fine breadcrumbs. Press the mixture into the bottom of a 30x20 cm/12x8" rectangular baking tin. Sprinkle the macadamia nuts over top.
To make the topping, put the butter and sugar in a saucepan, and stirring constantly, slowly bring to a boil. Boil for 1 minute, stirring constantly, then carefully pour the mixture over the macadamia nuts.
Bake for about 20 minutes, until the caramel topping is bubbling. Remove from the oven and immediately sprinkle chocolate chips evenly over top. Leave for 2-3 minutes, until the chocolate begins to melt, then using a fork or knife, swirl the chocolate over the top. Leave to cool in the tin, then cut into squares.