Macadamia & Ginger Fingers
Nic2371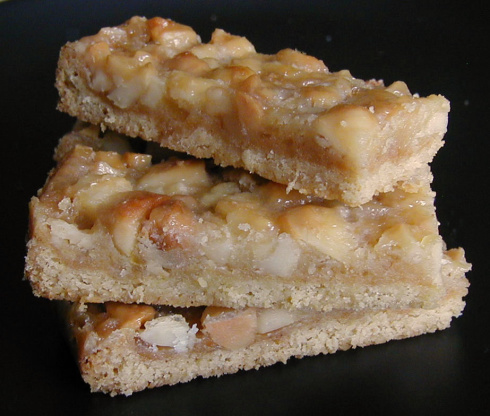 If you like macadamia nuts and ginger, this will tickle your tastebuds! A very intense cookie, which adults will enjoy. Adapted from the Australian Women's Weekly book, Best Food, which was given to me by MarieAlice - thanks!

You are right -this is indeed a treat for the adult palate. The ginger and macadamia combination over a ginger flavored shortbread base was amazing and lingered pleasantly long after the last crumb was consumed. I served small portions with coffee and it was well received. I must admit that I had quite an adventure locating golden syrup and crystallized ginger in my small Indiana city but I was finally successful and will make this again for special occasions. Thanks Nic.
Preheat oven to 350ºF. Line a 9"x9" brownie pan with baking parchment, extending the paper just above the edges of the pan.
Beat the butter and sugar in a bowl with an electric mixer until light and fluffy. Add the flour and ground ginger; beat on low speed until just combined.
Spread evenly into prepared pan and bake for about 10-15 minutes or until lightly browned. Cool in pan.
For topping - combine butter, golden syrup and icing sugar in a small saucepan and stir over a medium heat until mixture is smooth, about 5 minutes. Stir in nuts and finely chopped crystallised ginger.
Spread hot macadamia topping evenly over cooled base. Return to oven and bake for about 10 minutes - the nuts should be just turning brown, keep an eye on them.
Cool in pan and then cut into fingers or squares.
TIP: recipe says to make sure the base is cooled to room temperature before spreading the hot nut/ginger topping over.