Macadamia and Ginger Shortbread
Tisme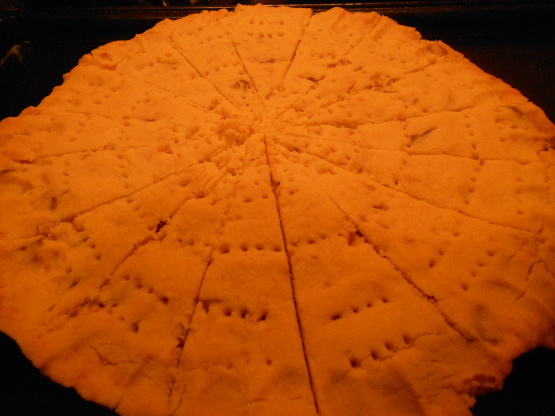 From a national supermarkets Christmas magazine.

Top Review by Tisme
This is my first ever attempt at making a true shortbread and it was the best ever recipe for a first timer!
The only problem I had was my oven timer did not work and they overcooked just a little before I realised.......but apart from that this recipe still tasted awesome!
DD has never like shortbread let alone ginger, and she loved them....DS hates ginger and he loved this........... DD, well if it has nuts in it, its a winner for him.
Will be making this again Pat, so easy and such a beautiful rich and buttery shortbread.
Preheat oven to 130C (fan forced).
Spread nuts on a baking tray and cook for 7 to 8 minutes, or until lightly golden and then cool and chop.
Use electric beaters to beat butter and sugar until light and creamy and then add sifted flours, using a butter knife to mix together, then add the ginger and macadamia nuts and mix.
Gather dough together and turn out onto a sheet of non-stick baking paper and press dough out to a 25cm round.
With dough still on the paper, lift it onto a baking tray and use your fingers to pinch the edges to give a fluted effect.
Score dough into wedges and prick with a fork and sprinkle the extra sugar on.
Cook for 35 minutes, or until firm and pale golden.
Cool on tray, dust with icing sugar and then cut into wedges.