ImPat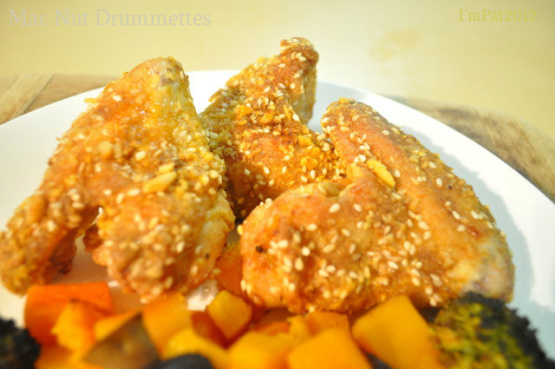 Taken from Hawaiian Electric Company website; apparently, they include 1 recipe in each month's bill! Nice! Posted for ZWT.

Top Review by ImPat
Flavourwise and tenderness and falling of the bone chicken meat perfect. I used 2lb 4oz of wings (weight after tips were removed) and only used up a little more than 1/2 crumbing mix so would cut this back but at least a 1/3 if not a 1/2. but most importantly was the end result and is was superb. Thank you allifirl, made for Eve3rydat A Holiday tag game.
Line a 13 x 9 x 2-inch pan with foil; set aside.
In a large bowl, combine flour, salt, baking soda, paprika, pepper, sesame seeds, and macadamia nuts; set aside.
In another bowl, combine egg and milk.
Dip chicken in egg mixture then roll in flour mixture.
Place chicken into prepared pan; drizzle with melted butter.
Bake at 350 degrees for 30 minutes.
Turn chicken over and bake for another 30 minutes.