Mac and Cheddar Cheese With Chicken and Broccoli
Prep 10 mins
Cook 25 mins
This is one of Rachael Ray's recipes. I have not tried it yet but, it looked so good when she made it. I plan on making this tonight.
Directions
Place a pot of water on to boil for macaroni.
To boiling pasta water, add pasta and salt to season the cooking water. Cook 5 minutes,then add broccoli and cook 3 minutes more or until pasta is cooked to al dente and florets are just tender.
Heat a medium pan over medium high heat. Add extra-virgin olive oil and chicken and season with salt and pepper. Saute a couple of minutes then add onion and cook another 5 to 7 minutes until onions are tender and chicken is cooked through.
Turn off heat and reserve.
While pasta cooks,heat a medium sauce pot over medium heat. Add butter and melt,then add flour,cayenne and paprika and whisk together over heat until roux bubbles then cook a minute more. Whisk in milk and stock and raise heat a little to bring sauce to a quick boil. Simmer sauce to thicken about 5 minutes.
Drain macaroni or pasta and broccoli florets. Add back to pot and add chicken to the pasta and broccoli.
Add cheese to milk sauce and stir to melt it in,about a minute or so. Stir in mustard and season sauce with salt and pepper. Pour sauce over chicken and broccoli and cooked pasta and stir to combine. Adjust seasonings,transfer to a large serving platter and serve.
Most Helpful
This is a fabulously easy recipe with great flavor. I have made this several times now, but unfortunately neglected to review it. For the most recent time, I used another reviewer's suggestion and used canned chicken, which I drained and added to the browning onions for a little more flavor. It worked out perfectly! Otherwise, I make the recipe exactly as posted, and it is a big hit with everyone. For the pasta, I like to use cavatappi, gemelli, or pipette, which all seem to grab the cheese sauce well.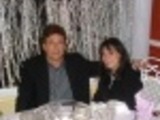 I will say I did a 1/2 and 1/2 cheese mix of mozzarella and cheddar, i do NOT recommend it, I have rated this a 5 because I could see and taste how good it would have been with out my mix. Plus it got my picky son and husband to eat broccoli. I will make this again.

Excellent, quick meal! I made it even quicker by using canned white meat chicken! I also cut the fat by using canned evaporated skim milk instead of whole milk, cream or half and half. It worked beautifully, and is very tasty! A good meal for kids and adults alike. The cayenne and paprika did not make it taste hot or too spicy. We thought it was just right, and we tend to like "medium heat" over mild or spicy. I didn't have dijon mustard, and just left that part out. We didn't feel like it was missing a thing. Great comfort food! Thanks for this recipe!