Ma Tante's Caramelized Pear & Ginger Tart
Prep 10 mins
Cook 30 mins
This is a quick and easy dessert. It is the bomb. I love the combination of pears, almonds and candied ginger. I got this recipe from my aunt...it is too die for. Hope that you enjoy it as much as we have. We use a shortbread pie crust for this recipe, feel free to use your favorite.
4 pears, large, bartlett, peeled and quartered, cut 1 1/2 - 2-inch thick slices
3 tablespoons butter
1⁄2 cup sugar, brown
2 teaspoons ginger, candied, finely minced
1 pie crust, unbaked
2 eggs, large
2⁄3 cup cream, hard (whipping cream)
6 tablespoons almonds, ground
4 teaspoons pear brandy (optional... may use pear nectar)
1 cup cream, whipped cream, garnish
1 teaspoon ginger, candied, shredded, garnish (optional)
Directions
Preheat oven to 400 degrees.
Peel and slice pears,
Caramelize the pears in butter and 3 tbsps sugar. Cook until a nice golden brown and set aside to cool.
Arrange the cooled, caramelized pears nicely in the unbaked pie crust.
Blend together the eggs, remaining sugar, minced candied ginger, cream, ground almonds and pear brandy or nectar.
Pour the custard mixture over the pears and place in a preheated oven and bake for 25 - 30 minutes. (or until done)
Let rest for 10 minutes before serving -- this is equally as good cold as it is warm.
When ready garnish with a large dollop of whipped cream and sprinkle remaining shredded candied ginger overtop.
Enjoy, enjoy, enjoy!
Most Helpful
After being married 13 years my DH has dubbed this the best thing I have ever tried from this website - a VERY big compliment! My cooking time was longer and I used Josephine pears. Makes lots, I got 12 slices. I will be making this again. Made for ZWT French leg, The Fearless Red Dragons.

This was a big hit at my Easter table and was definitely unique, to boot! As long as you love ginger, you will be a fan. This dessert is surprisingly not that sweet, but packs a lot of flavor punch. This was not very quick for me, though. It took quite a while for the pears to carmelize (let alone peel them), and I also had to grind the almonds and mince the ginger (which takes some time since it is so sticky). But, the effort was worth it, and I am so glad you shared your tante's recipe.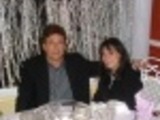 I agonized over making this because it is NOT even close to being in my dietary guidelines, but I am glad I did. I don't mind "being bad" if the culprit is worth it, and this is definitely worth it. Such rich flavors and so easy. The hardest part was peeling the pears. I didn't have pear brandy so used Courvoisier. The servings are listed as 4, but this actually would serve 10 since it is so rich, just a small slice is needed. And since I had smaller servings, I don't feel so guilty about the calories and fat and sugar! :) This will be a "special occasion" recipe for me. Tell your aunt thanks for such a great dessert!