Ma Po Tofu (From Cooking Light)
pammyowl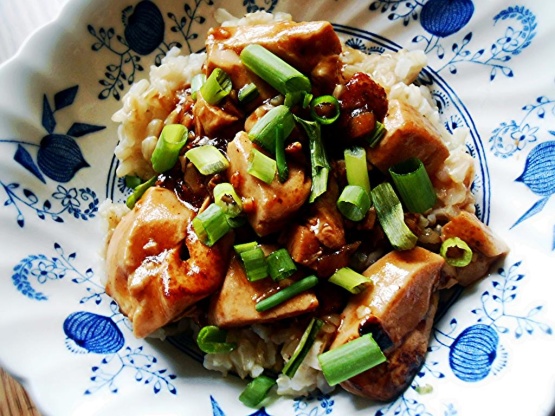 Tried this the other day and loved it! If you use a couple of 8 oz. packages of diced tofu, found in the produce section of your grocery store, and bottled minced ginger, this goes together in no time. A rice cooker does a great job with brown rice, too, and will keep the rice warm until serving. A quick, healthy dish from Cooking Light.

Top Review by YungB
Very authentic considering it came from Cooking Light. People that dont like tofu will eat this one up. My mom used to make this for us on those quick dinner nights where she was tired from work. She would pair it with stir fry baby bok choy. We all loved it. The only thing she would add is about 1 teaspoon of sugar to balance out the savory/soy sauce/oyster sauce. She also used water instead of chicken broth. One more thing I would recommend is to be sure to follow the instruction and cut the tofu into 1/2 X 1/2 inch squares. This way they will absorb the delicious sauce; otherwise, most would not like a big chunk of tofu. Other than that, I remember the ingredients to be the same as my mom's.
Place tofu slices on several layers of paper towels, cover with additional paper towels. Place a dinner plate on top of covered tofu; let stand 30 minutes. Remove plate, discard paper towels. Cut tofu slices into 1/2-inch cubes.
Combine broth, cornstarch, soy sauce, oyster sauce and chili garlic sauce, stirring with a whisk.
Heat a large nonstick skillet over medium-high heat. Add pork; cook 4 minutes or until done, stirring to crumble. Add ginger and garlic; cook 1 minute, stirring constantly. Add tofu; cook 4 minutes or until golden, stirring frequently. Add broth mixture to pan. Bring to a boil; cook 1 minute or until mixture thickens. Remove from heat.
Serve tofu mixture over rice. Sprinkle with onions.