Pamela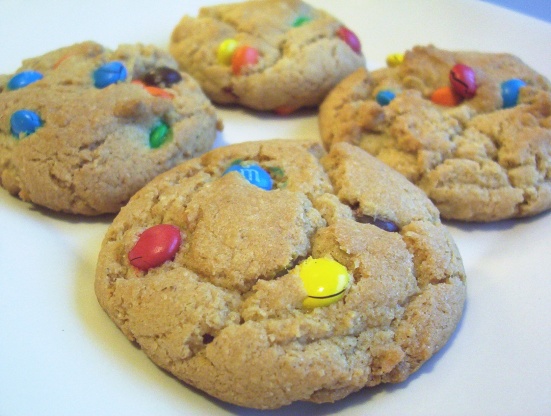 Something i found from the kahlua website (www.kahlua.com) which turned out really well. And man...who can refuse M&Ms and kahlua!! Turns out a nice brown colour, with brightly coloured candy bits. I think the wonderful texture came from the grounded oatmeal. Try this for something different.

Very tasty cookies although they were much more like an oatmeal cookie than I expected. Next time I think I will add a bit more Kahlua b/c I would have liked the taste to be stronger. All in all, very tasty and different! These are a crispy cookie - FYI. I also had 4 dozen when I was finished. Thanks for a fun recipe!
Preheat oven to 375°F (190°C).
Cream the butter and the sugars until well blended on LOW speed.
Add eggs, vanilla and Kahlua.
Measure the oatmeal and blend in a blender to a fine powder.
Mix the flour, oatmeal, salt, baking powder and baking soda.
Fold it gently (but well) into the butter mixture.
Add M&M's.
Roll into balls and place 2-inches apart on greased cookie sheet.
Bake for 10-12 minutes at 375°F (190°C).