GaylaJ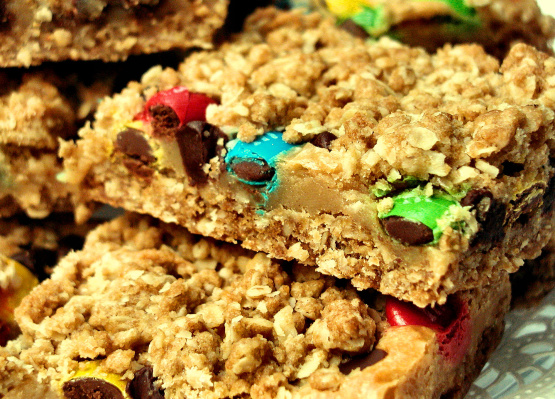 These are yummy! The original recipe called for red and green Christmas M&Ms, but I see no reason to relegate this delicious treat to just the holidays. :)

I think I munched on M&M's a little too much when I was making these because I was all chocolated out when I finally got these bars cooled and cut! But the next day I had some again, and boy were they good! I did leave the coconut out, and I cut them small too because they are very rich. I like some of the other options I've read in the comments like using double M&M's/no chips, or peanut butter chips - yum!
Combine oatmeal, brown sugar, flour, coconut, baking soda, and salt; add melted butter and stir until moist (the mixture will be crumbly). Reserve 1 1/2 cups and press remaining crumbs into a greased 13X9-inch baking pan (I line the pan with non-stick foil.).
Bake 12 minutes at 375°F.
Combine milk and peanut butter; carefully spread over baked crust. Sprinkle on M&M's and chocolate chips. Sprinkle reserved crumbs over chocolate pieces and lightly press crumbs down.
Bake 20 minutes, or until golden brown. Cool completely before cutting.