Méli-Mélo:a Muddle and Medley of Heirloom Tomatoes
Tisme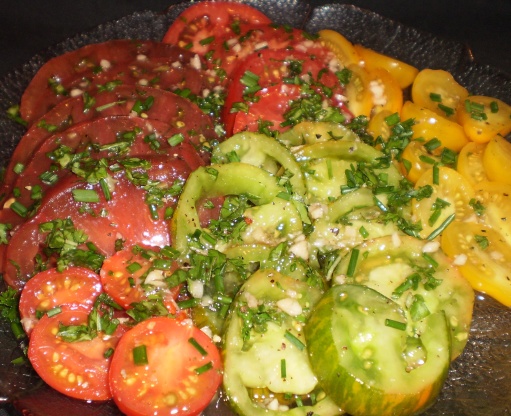 Méli-Mélo is a wonderful French word which simply translated means a mixture, medley, assortment. selection or to use the old English word, a Muddle! This is a simple and yet stunning tomato salad, which relies heavily on assorted sun-ripened tomatoes, sea salt, herbs and good olive oil. It makes a "stand-alone" meal or a wonderful accompaniment. The tomatoes I used in the salad in my photographs were good old fashioned heirloom tomatoes called: Pineapple (yellow and mottled red inside - sweet and fruity flavoured), Black Krim (black-ish skin and dark purple inside - tangy taste), Marmande (Traditional French toms with a beefy taste and texture), Brandywine (dark Bordeaux colour with superb flavour), Moneymaker (traditional English toms - a gardener's favourite - full of flavour) and Auriga (medium orange tom with a sharp and tangy flavour). Try to use a selection of different shapes, colours and flavours when you make this salad. Do NOT omit the salting process – it is essential to this recipe as it brings out the flavours to their fullest……trust me; this salad is NOT salty as the salt drains away with the excess tomato juices! Serve this with grilled artisanal breads such as boule, couronne, ciabatta, cottage loaf, home-made breads or crusty rolls. Grilled cheese or fresh goat's cheese is also a wonderful addition to this salad. Alternatively, serve it alongside grilled or barbecued meats or with pasties, pies or quiches – it really is simply delicious just by itself however!

Top Review by Tisme
Fresh and simple, from the garden to plate! Amazing recipe with great textures and fantastic tastes! Simple and perfect, the flavours of the tomatoes and dressing go together so well. I served with basil, chives, and parsley all fresh from the garden and dried oregano. This is just a wonderful recipe. Simple, easy with fantastic flavvours. Thanks F.T/F.S for another great recipe!
Cut, dice and slice your assorted tomatoes - making sure that there are plenty of different shapes, sizes and colours of tomatoes available. I like to leave small cherry tomatoes whole, and then slice large tomatoes, whilst dicing and cubing medium and round tomatoes - try to make the salad look "textured"!
Place the sliced and diced tomatoes into a large colander. Sprinkle over some sea salt - not too much, about 1/4 teaspoon, then shake the tomatoes gently and sprinkle over some more sea salt. Do this one more time and allow them to sit for 15 to 30 minutes in a sink or over a bowl.
Transfer the tomatoes to a large attractive serving bowl or platter, and sprinkle over your choice of chopped fresh or dried herbs, see above in the ingredients list.
Make the dressing using one part vinegar to three parts olive oil, then add the minced garlic and some freshly ground black pepper - taste and adjust the seasoning; salt should not be needed as the tomatoes will have some residual salt left - but add salt to the dressing if you feel it is needed.
Drizzle the dressing over the tomatoes and chopped herbs and then decorate the salad with whole herb leaves and flowers, serve immediately.
If you are transporting this salad to a picnic, decant the dressing into a bottle and only dress the salad just before serving and eating it.
Serve with assorted crusty and artisanal breads and rolls – for ease of "juice mopping"!