Lyssie's Best Macaroni and Cheese
alligirl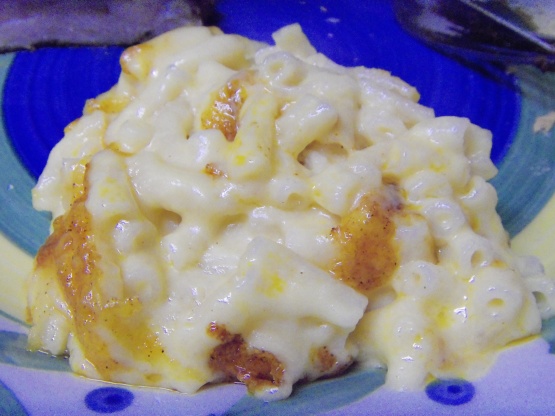 Okay. I know...there are tons of mac and cheese recipes out there - I've tried most of them. Even Paula Deen's! I prefer this version. It doesn't have that "burpy" taste that you so often find because of the addition of mustard and the texture is smooth and creamy NOT gritty like mac and cheese can sometimes be. It's quick and easy and my family loves this!

Yummy, cheesy macaroni and cheese that reminds me of my Nana's recipe! She would make hers on the stovetop and add egg also. It was nice and smooth and creamy-be sure to use a nice sharp cheddar. I liked the creamy texture, so I just put it n the crock pot to keep warm and to maintain the smooth consistency, because I did not want the crust from the oven. I made this for Spring PAC 2010. Thanks Lyssie!
Cook elbow macaroni as directed, in fairly salty water.
Melt butter in frying pan over medium heat. Stir in salt and pepper. Add flour, and cook over low heat, stirring constantly, until smooth (about a minute or two.you really want to cook the flour, without making it brown).
Remove the frying pan from the stove and add milk.
Return the frying pan to the burner and gradually increase heat as you stir constantly. When mixture boils, continue to stir for one minute, then remove from heat. Stir in shredded cheddar cheese.
Add cheese sauce to the macaroni and stir thoroughly.
Bake uncovered at 375 degrees for 30 minutes. Remove from oven, sprinkle top with paprika, then bake for another five minutes.