Luscious Vanilla Pound Cake (with Strawberry Variation)
PaulaG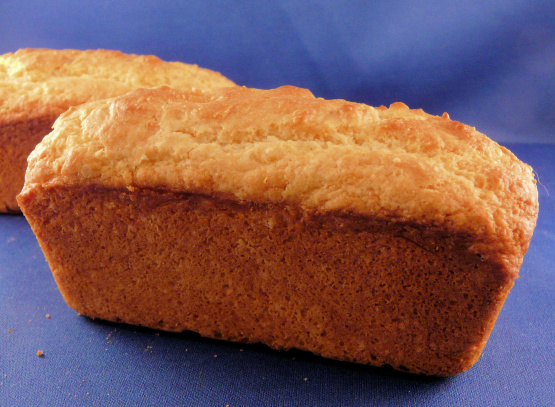 Using Equal Sugar Lite and yogurt, it's a health benefit with a calorie reduction. try using strawberry yogurt! In Taiwan, you can get yogurt with konnyaku mixed in! mmm... so buttery, but lite! I used strawberry yogurt and I omitted the almond extract. recipe copied from www.equal.com
Top Review by PaulaG
This gets 5 stars for ease of preparation alone. I used a combination of Splenda granular and sugar. The yogurt was plain yogurt with an extra measure of vanilla extract added. The recipe was reduced by half and baked in 2 mini loaf pans--one for now and one went into the freezer for later. I made this in order to make recipe #122728.
Combine baking mix, cornstarch, Equal Sugar Lite in mixing bowl.
Mix in yogurt, melted butter, milk, eggs and flavorings until well blended.
Spoon mixture into a 9 or 12-cup Bundt® cake pan or a 9 x 5-inch loaf pan well-sprayed with non-stick cooking spray.
Bake in preheated 350°F oven 45 to 50 minutes or until wooden pick inserted in center comes out clean.
Let cool in pan 10 minutes.
Carefully remove cake from pan and cool completely on wire rack.