Annacia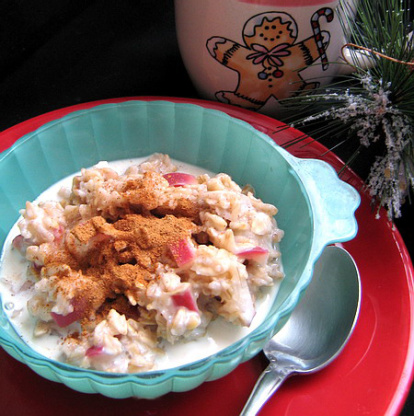 An excellent choice on any morning you need comfort food. It's warm, easy, hearty, and healthy- not to mention perfectly sweet and creamy! Start your day off right!

Wonderful porridge! I loved the walnut pieces in it. Topped it with home made vanilla yoghurt (sheep yoghurt). Next tme I'll try adding some raisins. Thanks for posting!
Made for I've Saved All These Recipes Tag Game / Diabetic Forum
For absolute best, creamiest results, soak the oats overnight in the water, in a small pot.
In the morning, bring the oats and water to a boil, stir, lower heat and cover. Let it bubble gently, stirring occasionally, for about 5-7 minutes. Around when it starts to stick, remove from heat and leave covered for 3 minutes. (This ensures that none is stuck to the pot, and also helps creaminess.).
Meanwhile, as it's cooking assemble the other ingredients.
Pour oatmeal into your serving bowl. Stir in other ingredients, top with additional ground flax if desired, and enjoy immediately!
Double or triple accordingly, it comes out perfect.