Ingy1171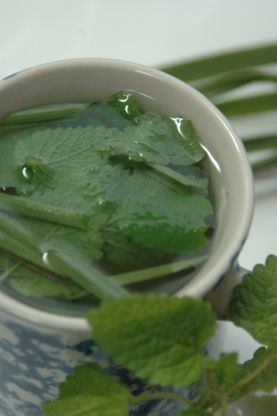 This tea I first had in Bali. It is refreshing and delicious hot or cold. Easy to make if you can find the lemongrass however most Asian markets should carry it. My mother who is diabetic loves the natural flavor of the lemongrass without the sugar. Be careful about adding the ginger as it will give an almost "hot and spicy" flavor to the tea! Try the tea without first and then next time try it with the ginger.
Boil 1 liter water.
While the water is boiling, clean the stalks of lemongrass under running water then cut and discard the green upper part of the stalks, you only want to use the whitest part.
Next, using a meat tenderizer or hammer of any sort gently smash the stalks on your cutting board.
Place the smashed stalks of lemon grass inside the tea pot along with the peeled ginger if you decide to use it.
Pour the boiling water over and allow to steep for 5 minutes.
Pour into tea cups and serve with or without sweetener (the honey or sugar).
In Bali, this"tea" would not be served with sugar, it tastes fabulous just as it is.
Tip: As with iced tea, this"tea" can be served cold.