Donna M.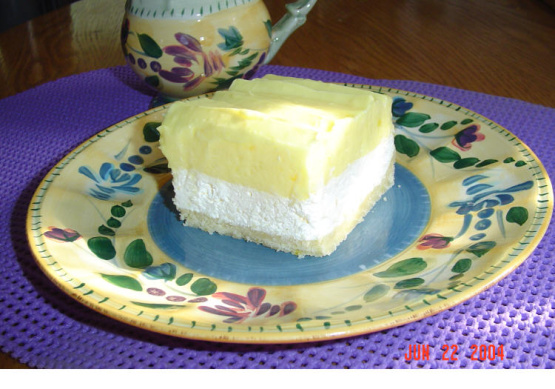 Refreshing, cool and creamy with the zing of lemon. This is a snap to make, and tastes so good! This is another one of my 'original' creations. Enjoy!

This is sooo delicious! I didn't have lemon zest so used a few drops of lemon flavoring and it worked out just fine...just need to add a few more drops next time.
----Crust----.
Mix all crust ingredients together with a fork or pastry blender.
Press into bottom of a 9x13 inch baking pan.
Bake for 15 minutes at 350 degrees F.
Cool completely.
----Filling #1----.
Using electric mixer on low speed, blend cream cheese, sugar and lemon zest.
Add Cool Whip and mix until blended.
Spread evenly on cooled crust.
----Filling #2----.
Using electric mixer, gradually add 1/4 cup of the milk to the cream cheese.
Mix until smooth.
Add pudding mixes and remaining milk, mixing well until mixture thickens (about 2 minutes).
Spread evenly on top of first layer.
Refrigerate, covered, until serving time.
Cut in squares to serve.
NOTE: For best results, use Jell-o brand pudding mix.
I have had poor results with other brands.
A graham cracker crust could be substituted for the shortbread crust, or--OR use two purchased pie crusts and divide filling evenly between them, OR recipe can be halved and made in an 8-inch square pan or 9-inch pie pan.