Luscious Lemon and Lime Water
Boomette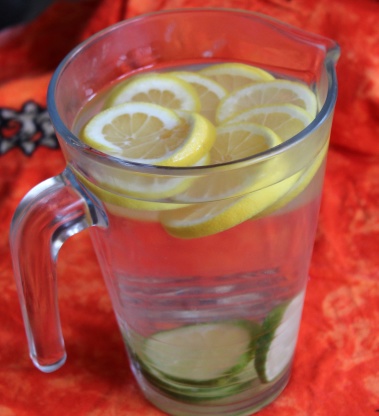 I got this recipe off of the Dr. Oz website. A very refreshing water that is easy to drink all day long. For best results make this the night before, or about 4 hrs before drinking.
We have to drink more water and this recipe is a good way to drink more. The lemon and lime gives a fresh taste to the water. And I heard that when adding lemon slices to water, it helps to boost our metabolism. So we burn more calories. We enjoyed it so much that we will do it again often in the summer. Thanks Roberts :) Made for PAC Spring 2013
Pour 8 cups water in pitcher or large bowl. Wash lemons and limes, cut into thin slices and add to water.
Refrigerate for at least 3 hours before drinking, and enjoy! Keep ingredients refrigerated up to 2 days.