Luscious Green Brekkie-On-The-Go!
Rita1652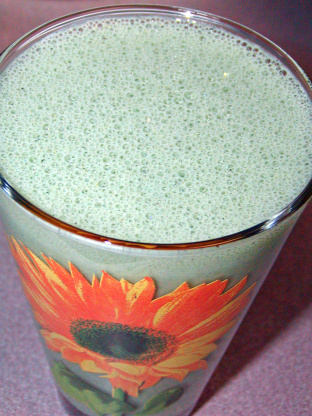 A delicious breakfast jam-packed with nutrition, or an any time snack, adapted from flip shelton's 'green: modern vegetarian recipes'. Wheat grass contains loads of essential vitamins and minerals and turns your drink a luscious green! If you like your drinks a little sweeter, add honey, to taste.

Lovely, I use whey protein powder because I do not tolerate soy. Did not think about peaches and that was lucious. When I had a cold I added a bit of fresh ginger and ground cinnamon. Lovey, healthy, refreshing. Thank you.
Blend all the ingredients until smooth.
Pour the drink into an insulated travel mug, and drink on the go!