BarbryT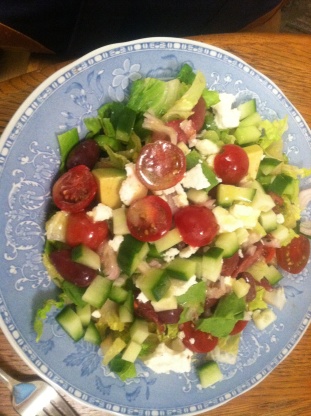 My version of Greek Salad. Sometimes two of us share this for dinner with homemade garlic bread. It's great for lunch, too. We love it! This salad really shows off a high quality olive oil! I have also made this with tender butter lettuce instead of the romaine. So good!
Place the Dijon mustard in a small bowl and add the lemon juice. Mix this well with a fork.
Slowly pour in the olive oil while you keep mixing briskly with the fork. (You want to achieve a little emulsification.) Then add salt and pepper to taste. Be a little stingy with the salt as you are going add lots of salty feta cheese and Kalamata olives to the salad.
Dip a piece of the lettuce into the dressing to see if the dressing is to your liking. If not, make adjustments now.
Place the romaine lettuce in a large salad bowl. Add the other vegetables and avocado, then top with the Kalamata olives and crumbled feta cheese.
Pour the dressing on top and lightly toss the salad.