Luscious Amaretto Ricotta With Berries (Low Fat)
PaulaG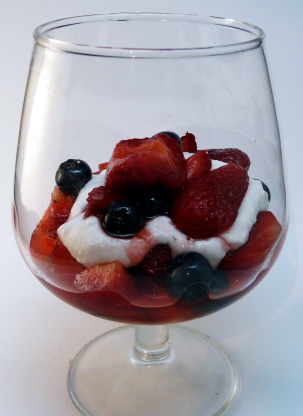 Simple, but delicious, this is all about the ricotta. This is a low fat version of a Bon Appetit recipe that also included cream cheese, but not Amaretto. This ricotta is also good with peaches and crushed Amaretti cookies. Includes 30 minute stand time for the fruit. Each serving (based on two people) contains 3.5 grams of fat, and 1.5 grams of saturated fat (calculated from ingredient labels).
wow this is great. I used only blackberries. But I'll try with other fruits another time. The ricotta mixture is so good that after I ate my serving (on the photo), I did more ricotta but to eat like that alone without fruits. I used more amaretto. Yummy! Thanks Maito :)
Combine berries with lemon juice and sugar. Let stand at room temperature for 30 minutes. This will allow a syrup to develop.
Mix ricotta ingredients together. This may be done in a food processor, if a finer texture is desired.
Serve berries over a scoop of the ricotta. Serving it in a martini or other decorative glass makes for a nice presentation.