lets.eat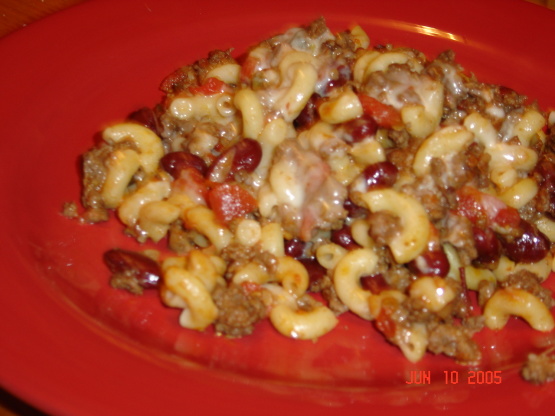 Easy and quick. Good 1-dish meal for those busy nights.

This was great! I seriously had more than half of the dish- the flavor was perfect for my taste buds! Plus, it was very eye pleasing with the colors- red and green and the fresh color of the noodles...Speaking of noodles, I used (4 cups worth when they weren't cooked yet) wide egg noodles and they worked perfectly. I also only used a pound of ground beef (I made two dishes, each using a pound...) I used a whole green pepper and chopped it up, didn't use the kidney beans, and did add a splash of soy sauce (I thought that I was putting the sauce into the other dish I was making!) So, although it looks like a changed a lot of things, I didn't notice that I may have until I was typing this! Well, I loved this so much--I am definately making this again! Thank you so much for sharing!! Bec (6/8/03)
Cook macaroni according to package directions.
Brown ground beef in a large skillet; drain fat.
Add onions and garlic and cook until onion is soft.
Add green pepper and tomatoes, chili powder and Worcestershire sauce.
Cover and simmer on low about 20 minutes.
Stir in macaroni.
Salt and pepper to taste.