Lunch Meat Sandwich Menu (Lite-Bleu)
CoffeeB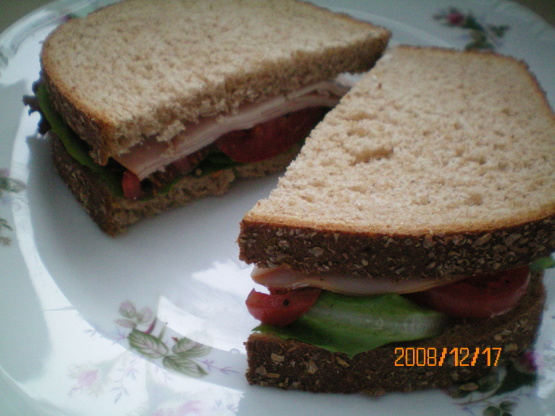 All Lite-Bleu recipes are meals or recipes that we designed for our weight loss diet. Please visit our homepage for more info. Using the calculations from the packages, this menu is only 356 calories.

This made for a nice lunch for me today and in fact I was anticipating this sammy since breakfast. I used Brownberry's High Fiber WW bread and also along with the light mayo also spread a tad of spicy brown mustard. I opted out of the cauliflower (having that for supper) and pear and instead had an apple. Thanks for my lunch today 2Bleu!~ Made for Photo-tag!
Make sandwich using toast, mayo, lettuce, tomato, and turkey.
Steam cauliflower, spray with 0 calorie Olivio butter, salt, and pepper.
Have pear for dessert.