Lunch Box Taco Chicken Soup
Pamela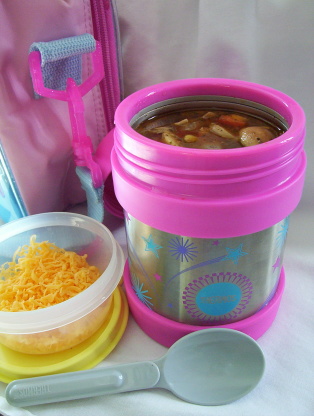 Freeze this in individual servings for a delicious lunch box treat.

I made this for my first OAMC session and my daughter loved it. My son who hates most mexican dishes also loved it and said he'd eat it again. I sent it to work with my husband and he said it was good too. I don't particularly care for corn or mushrooms in anything but I thought it had an interesting flavor and wouldn't mind eating it again.
Cook bacon, until crisp, in a large saucpan.
Add vegetables and cook until onion is soft.
Add remaining ingredients and bring to a boil. Reduce heat and simmer for about 10 minutes.
Cool completely and then freeze in single serve containers. Defrost overnight, then warm in microwave until heated through. Pour into thermos and pack in lunch.
Send along small containers of cheddar and/or montery jack cheese, if desired, for garnish. This soup goes great with tortilla chips!