GaylaJ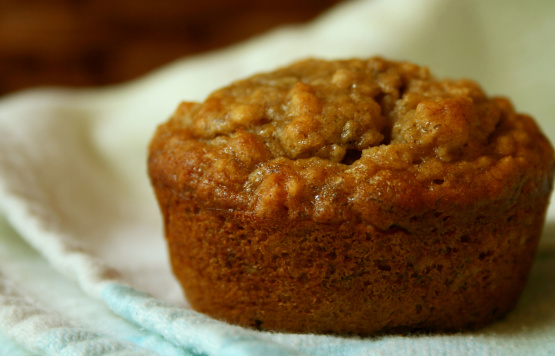 These moist, filling muffins are a perfect addition to kids lunches. With oatmeal, banana zucchini they are nutritious and delicious!

Very good! I used about 1 1/2 cups of zucchini, and 2 bananas. I also cut the butter down to 1/4 cup. Very moist and just the right amount of sweetness. I just used Pam in the muffin tray, and they released pretty well.
Next time I think I'll try replacing the banana with pumpkin!
Oh, I also got a yield of 12 large muffins out of this recipe.
Smash bananas into zucchini to equal 2 1/2 cups, (there should be a few lumps of banana).
Add Sugar and eggs.
Mix in melted butter.
In separate bowl combine dry ingredients.
Add dry to wet and mix until incorporated.
Fill buttered and floured muffin cups 3/4 full.
Bake in 350 oven 20-30 minutes or until toothpick comes clean.
Let rest for 2 minutes.
Remove from pan to cooling racks.