Bobtail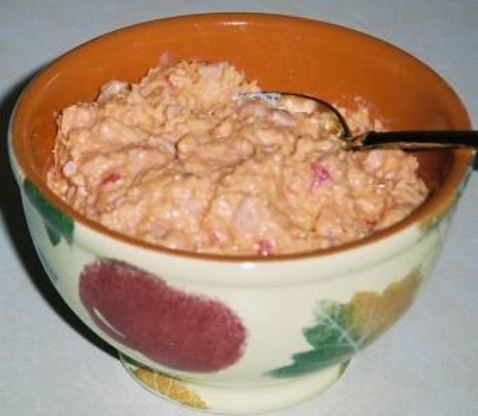 This is from my cookbook entitled "Recipes from the Old South". This is a Richmond, VA heirloom recipe. Serve on your favorite cracker or on whatever suits your taste. I have not had this, but wanted to share it with you. Hope you enjoy! Edited: I have now prepared this recipe. I really enjoyed it. It is a very different version of pimento cheese. I did not put mine in a food processor. I used fancy shredded cheese, chopped the onions and pimentos with my Pampered Chef chopper. Then I just mixed all the ingredients together. This was much easier and less clean up. This would be good served on celery sticks as a hors d'oeuvre. This recipe is easily halved or quartered for a first time trial.
Process cheese, onion and pimentos in a food processor.
Add other ingredients and stir till mixed well.
Store in a screw-topped jar in the refrigerator.