Lucky Irish Twice-Baked Potato
evol8531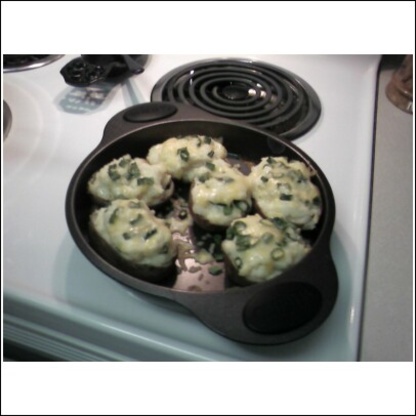 Irish because it has green avocado chopped and gently mixed into the potato, along withsour cream and cheese, topped with guacamole!

I have to admit that I am an avocado fan...but after I had tagged this recipe, I was a little dubious about how it would work with potato.
I needn't have worried....the potato was beautifully creamy and soft, and to be honest you probably wouldn't guess it contained avocado if you didn't know. I loved the addition of the scallions too ( very Irish!). I didn't top mine with guacamole, as I wanted to see how the potato stood up on it's own.
A great jacket potato with a twist...we thoroughly enjoyed them!
Bake whole potatoes in preheated 450*F. oven for about one hour; take potatoes out and reduce oven temperature to 350*F.
Let potatoes rest for 5 minutes, then cut in half lengthwise and scoop out potato flesh into a large bowl. Reserve potato jackets.
Add butter, sour cream, milk, salt, pepper, and cheese to potato in bowl, and whip until creamy with an electric hand mixer.
Taste and adjust seasoning with additional salt and pepper.
Gently stir in scallions and avocado pieces. Spoon mixture into halved potato jackets, and bake in 350*F. oven for 20 minutes.
Top each potato half with a heaping spoonful of guacamole to serve. Enjoy!