Luby's Cafeteria Baked Spareribs With Luau Sauce
llk2day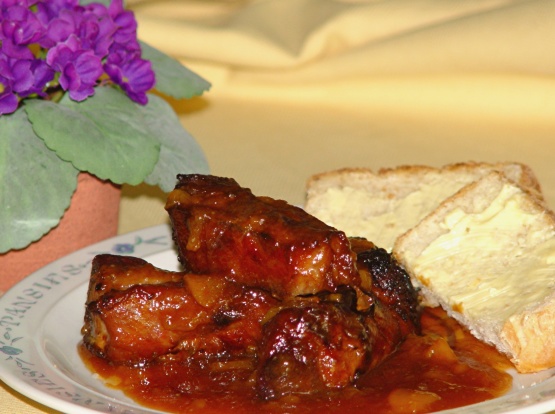 For fans of cafeteria cuisine. Long, slow cooking makes these ribs extra tender and tasty. The spicy-sweet sauce makes them extra special.
We had some boneless Pork ribs left over from last nights BBQ. So I can't rate the cooking of the ribs. I rated the sauce only. I found very tasteful myself. Now the old guy I live with said to much vinegar for his taste. So next time I will try the mild rice vinegar instead, then both of us will be happy.
Preheat oven to 250°F.
For ribs, remove and discard excess fat.
Arrange in baking pan large enough to hold in a single layer.
Sprinkle with seasoned salt.
Bake 2 hours or until ribs are cooked through and meat is tender.
Brush with honey and continue baking 5 minutes.
For sauce: beat peaches in medium saucepan with an electric mixer at high speed for 5 minutes or until fairly smooth.
In custard cup or small bowl, add about 2 teaspoons of the vinegar to ginger, stirring to form a paste.
Continue adding vinegar, a small amount at a time, stirring constantly until mixture is smooth.
Add to peaches.
Add brown sugar, ketchup, soy sauce, garlic powder, and salt.
Cook over medium heat, stirring occasionally, just until mixture simmers.
Serve with ribs.