Lubbers Jerk Chicken With Peach Salsa
Rita1652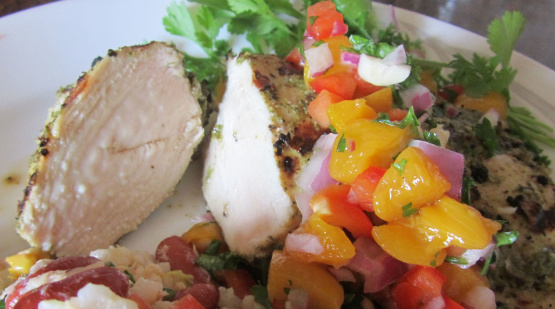 When yer galleon be perched in dry dock to be having her barnacles scraped that do be the time to enjoy yer neighbors fresh chickens (be sure ye be leavin' no trail of feathers to yer shack!). Don't rush it, Let it soak in the goodness of yer larder then ye'll have some grub to remember on yer next voyage matey. Plan to start this fine feast the day before. Prep time is the marinating time. Created for Raiders of the Lost Pantry Contest.

This was very different. My wife and I did not care for it so much. This is not the way jerk chicken should taste. I'm sure with the ingredients you had to use that it is okay, but we probably will not make this again. (Just a note, your information at the beginning is quite confusing).
CHICKEN:.
Put allspice, thyme, coconut, garlic, chiles, scallions, peppercorns, salt, nutmeg, cinnamon, ginger and lime juice in a blender or food processor and grind to a rough paste.
Put chicken in a baking dish, add seasoning paste and coat chicken well, using a spoon to turn and rub it.
Cover and marinate, refrigerated, for at least 6 hours, preferably overnight.
Heat oven to 350 degrees and bring chicken to room temperature. Turn chicken once more in marinade to coat well, then put baking dish in the oven, uncovered. Bake for 40 mins or up 1 hour, until well browned and juices run clear (start checking at 40 mins, you don't want it overcooked and dry and smaller pieces will take less time). Put dish under the broiler for just a minute or so to char chicken slightly. Remove and serve with the peach salsa (and coconut rice, if desired).
PEACH SALSA:.
Combine all ingredients and refrigerate until serving time.
The flavor is best if the salsa is refrigerated for 6 hours or overnight.