Lox and Cream Cheese Stuffed Cucumbers
Bergy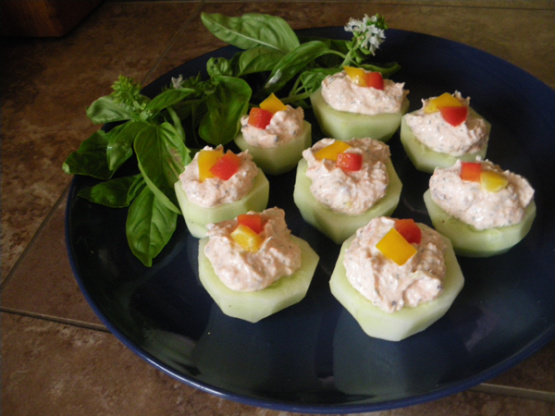 Great, savory little appetizers inspired by Sandra Lee.

Top Review by Bergy
Delightful Tasty Healthy appetizer. I used lite cream cheese and instead of sour cream I used cottage cheese. The cucumbers were Lemon or also known as apple cucumbers - they are very mild and burbless - Lovely appetizer served with my Sunday Martini.
Using a potato peeler, make stripes on the outside of each cucumber by peeling down the length of the cucumber, leaving every other section intact.
Cut off the ends of cucumber and slice into 1-inch rounds.
Using a melon baller, scoop out the seeds and inner flesh from the top 2/3's of each cucumber slice to create a tiny bowl in each piece of cucumber(DO NOT scoop all of the way through); Set aside.
In a bowl, combine equal parts cream cheese and sour cream.
Mix in salmon, shallots, lemon juice, salt and pepper, combining thoroughly.
Transfer the mixture to a pastry bag with a star 8 tip.
Pipe the filling generously into each cucumber section.
Garnish with sprig of dill.
As an alternative, use red pepper cream cheese.
Enjoy! ;).