Lox and Cream Cheese Scrambled Eggs
Rayndrop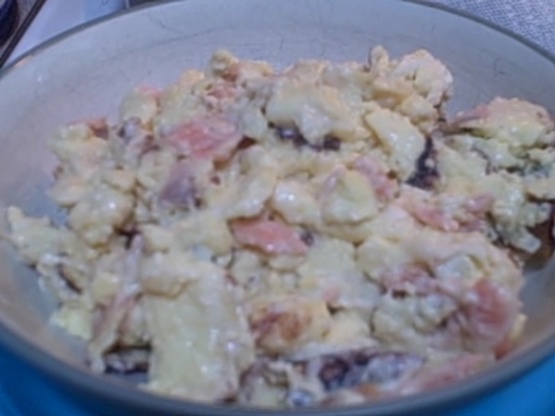 I made up this recipe last week and everyone loved it! It's so fast and easy and probably even tastier with regular cream cheese. I used Jarlsberg but you can use any cheese you like. Good recipe for those following a low-carb diet.

So creamy tasting! I estimated amounts of ingredients. The Swiss cheese definitely makes this dish! Never would have thought to combine eggs with cream cheese & lox. Wonderful breakfast, especially on top of toast with hot coffee! Of course I overcooked it a little, but that didn't seem to affect the flavor/consistency. The lox flavor is so subtle, not overwhelming, not salty. A+
Beat eggs. (I find they get fluffier if you beat the yolks and whites separately and then mix them together.) Add milk and stir.
Melt butter in a frying pan over medium-high heat.
Add eggs and stir.
When eggs are nearly set, sprinkle in the cheese, cream cheese, and lox and stir until eggs are just set (don't overcook!).
Add salt and pepper to taste.