Lowfat Creamy Potato Corn Chowder
Boomette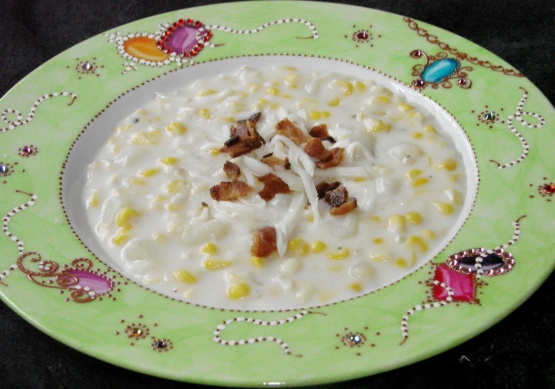 While reading through some soup recipes online one day, I came across this one and realized that I actually had all the ingredients on hand. Since the weather outside was awful, I whipped up a batch, hoping to thaw out my roommate when she got home from class. She loved it and so has everyone else I've made it for. It never seemed to me that there was enough water to cook the potatoes, corn, and onion, but trust me, there is! Great with bacon or ham, and some cheddar cheese if desired.
In a large saucepan, stir together the corn, potato, onion, water, chicken bouillon, and black pepper.
Bring to a boil; reduce heat. Cover and simmer 10 minutes or just until potatoes and corn are tender, stirring occasionally.
Stir in the half cup of milk and continue to simmer.
Meanwhile, in a small bowl, stir together dry milk and flour.
Gradually stir in the 1/4 C of milk until smooth.
Pour the milk and flour mixture into to corn, potato, and onion mixture.
Cook and stir until thick and bubbly.
Top with cheese and ham or bacon, if desired.