Lower Fat Totally Awesome Meatloaf
teresas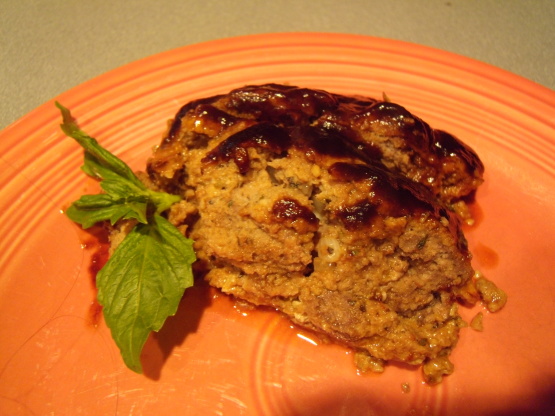 I believe I have created a meatloaf that is actually lower in fat and full of flavor. This is the first meatloaf that I have made that did not turn into "Pizza" night!!! :) My family took seconds and thirds! NO leftovers with this one!!

We really enjoyed this. It was a little on the mushy side so I would advice you to use the full amount of breadcrumbs if you like your meatloaf more firm. The flavors worked great together and it was so easy to prepare. I made it as posted and used the chili sauce as well. Thanks for posting. Made for Fall PAC 2009 :)
Preheat oven to 350 degrees.
In a large bowl, combine all ingredients except for meat and 3/4 cup ketchup and brown sugar.
Add meat and mix with hands until just combined.
Place into loaf pan (depending on the size of your loaf pan, you may actually get 2 loaves out of this recipe).
Bake for 1 hour.
Mix together 3/4 cup ketchup and brown sugar.
Place mixture over the top of loaf.
Bake for an additional 20 minutes.