Lower-Fat Macaroni and Cheese
Nif_H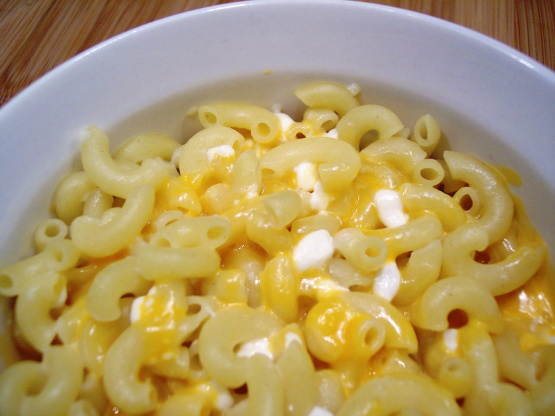 I saw this recipe on e-diets, but couldn't find it again when I wanted to print it out. So it probably isn't exact - but it tasted good this way, anyway! A quick recipe - my prep time includes time to boil the macaroni.

Top Review by Nif_H
For 1 serving, I used 1 cup of cooked high fibre macaroni, 1 ounce of low fat cheddar and 1/8 cup nonfat cottage cheese. I only had to bake it for 10 minutes. It counted as 5 WW pts. I needed to add some seasoning salt, but this is a quick, easy and healthy recipe to use as a base for adding chicken or veggies, etc.! Made for My 3 Chefs. Thanks Jennifer R! :)
Preheat oven to 350°F.
Cook macaroni noodles; drain.
Mix macaroni, cottage cheese, and cheddar cheese together in oven-proof bowl.
Bake for 15 - 20 minutes.
Makes 2 servings. Enjoy!