Lower Fat Hamburger Pizza
teresas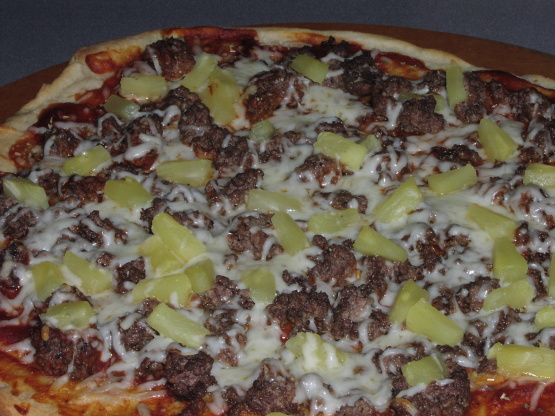 This is my lower fat version of my homemade hamburger pizza version, or at least I hope it is lower fat.

We enjoyed this for a change of pace. I liked the hamburger and pineapple combination. I have never had those two together. I could see adding some veggies to this tasty pizza. I made sure and drained the hamburger after browning and I used pineapple tidbits instead of chunks. I sprinkled the oregano on after adding the sauce. Thanks for posting. Made for Spring PAC 2009. :)
Leave the pizza crust container sitting on the counter for about 10 minutes, it is easier to spread the dough at room temperature.
Open the container and spread it out on a greased pizza pan.
Bake in the oven for 7-10 minutes at 375 only until the dough starts to brown.
Remove the dough from the oven.
Spread the tomato sauce over the dough.
Spread the hamburger over the sauce.
Spread the shredded mozzarella cheese over the hamburger.
Sprinkle the pineapple over the cheese.
Bake the pizza another 10 minutes at 375 or until the cheese is melted and the dough just starts to turn brown.