Lower Fat Double Chocolate Chip Cookies (Ww)
Prep 12 mins
Cook 10 mins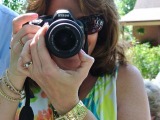 I needed to make some cookies that wouldn't interfere with my trying to cut back on my fat intake. A friend passed on this recipe which she said was from Weight Watchers. If you make 40 cookies, it is 1 point each (I'm not sure what the Points Plus Value is). And yes, they are small cookies, but very fudgy and delicious!
Directions
Preheat oven to 350°F.
Combine flour, baking soda and salt in a large bowl. (Do not pack flour when measuring).
Beat butter and brown sugar with a mixer at medium speed until light and fluffy; gradually add granulated sugar, beating well. Add cocoa and egg whites, beating well. Gradually beat in flour mixture until blended. Stir in chocolate mini chips.
Drop by rounded teaspoonfuls (about 3/4-inch balls to get 40 cookies) onto baking sheets coated with cooking spray. Bake at 350°F for 10 minutes. Cool on pans 2 minutes or until firm. Remove cookies from pans; cool completely on wire racks.
Reviews
Most Helpful
I love chocolate! Oh my gosh fantasticly soft and fudgy tasting! They fixed my chocolate craving without so much guilt! These were great! I added a 1/2 cup of whole wheat flour in place of a 1/2 c of a/p flour for extra fiber and nutrition in which I added an extra tablespoon of canola oil to the recipe. These were great and my kids loved them and didn't even know the difference! This is a keeper! Thanks so much for sharing!
Wow these are really good! I had to recalculate the points because I couldn't believe they were only 1 pt each! They are small but they are delicious. Pleasantly surprised =o)
Great fudgy cookie! I did alter it a bit. I quartered the recipe and got 6 small cookie scoop sized cookies. Instead of 1/2 egg white I used 1 1/2 T. eggbeaters. When I calculated points on my recipe they came to 2 pts. each. I'l keep this recipe!
Get Healthy Your Way