Rita1652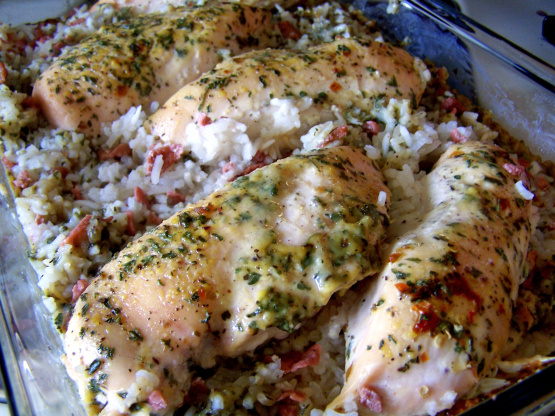 A lower-fat version of the Sweet Potato Queen's masterpiece!

Minimum effort required here!!Maximum flavour achieved!!! I have never used bacon bits in my life,and had no intention of starting now,so I used some pre-cooked back bacon.I also threw in a little sliced mushroom,sliced leek and sweetcorn that I had to use up.I did cut the recipe in half,and reduced the cooking time slightly,but I still used the entire tin of soup,as I felt it was drying out a little. The end result was very tasty,including two very nearly clean plates from two small children!!Thanks. Made for PAC Fall 2008.
put bacon bits in bottom of 9x13 inch casserole dish.
put uncooked rice in dish.
lightly salt, pepper, and paprika chicken pieces, put them in dish.
in bowl, mix soup, water, garlic salt, nutmeg, oregano, and parsley.
pour into casserole dish.
cover and bake 2 hours at 300 degrees- don't uncover during cooking!