These have a delightful flavor and are a satisfying alternative to fries that are fried. Note that you'll need to soak and scrub the pan but it's well worth the effort. Use a non-stick pan if you have one available.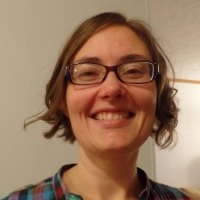 These were really good, but a bit soft, would have been since if the outside of the potato was crisped up. I will make this again, but try uncovering it for the last 5 minutes or so. Thanks!
Grease 9x13 pan.
Rinse potatoes in collander under running water and pat dry.
Arrange potatoes in pan so they don't touch each other.
Pour milk over potatoes.
Divide butter into several small pieces and dot evenly over potatoes.
Sprinkle with salt and pepper.
Cover with foil and bake at 425F for 25 minutes.
Remove and add cheese evenly.
Cover and return to oven for 5 more minutes.
Garnish with chopped parsley and serve.