Lower-Fat Beef Enchiladas
teresas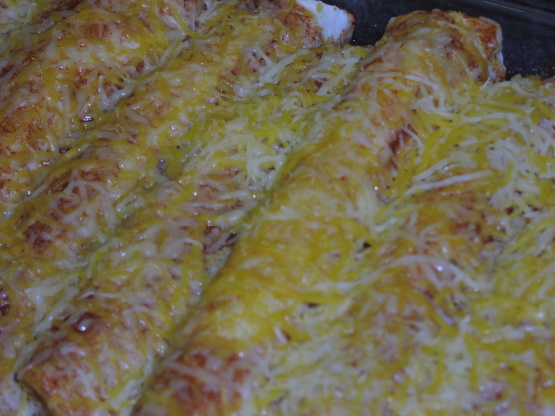 Since starting Weight Watchers, I've been experimenting with how to make some of my favorite dishes lower in fat and calories. If I've figured correctly (using 93% lean ground beef and part-skim cheese), these enchiladas should have about 7-8 points each. (The nutritional information that RecipeZaar provides does not always coincide with actual package nutritional information, so please use your own judgement.) My non-Weight watching husband enjoyed them as well. Feel free to add more sauce if you like more of that, as well as add the jalapeno with a few seeds, if you like a hotter enchilada.

Excellent dish!!! Both DH and I really enjoyed the flavor of these enchilads. We also were surprised to find that they only had 7 points. I was going to half the recipe, but thought that this would make great leftovers. We had it for dinner last night and for lunch today. I still have 2 more serving and I can't wait!! Thanks AndreaVT96 for posting.
Brown the ground beef, onions and jalapeno pepper till beef and onions are done. Drain fat. Add all spices, 1 cup of the enchilada sauce and 1 cup of the low-fat cheese. Mix well.
Fill the tortillas, and place seam side down in a large baking dish (may take 2 dishes).
Pour remaining sauce on top. Sprinkle with the rest of the cheese.
Bake at 350 degrees for approximately 30 minutes until bubbly.
Serve with additional salsa, chopped green onions, or low-fat sour cream, if desired.