Lower-Cal Blackberry Cobbler
AMDmtmom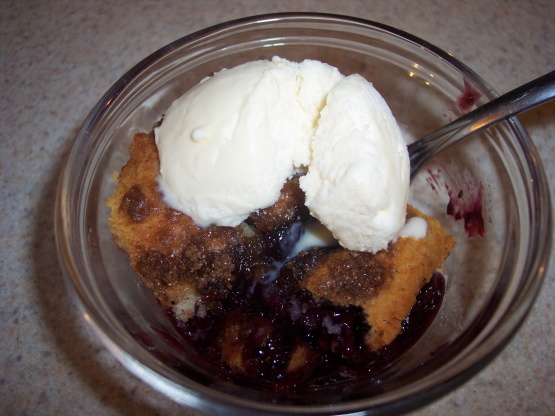 I modified this recipe and cut it in half so that my small family could enjoy a healthier dessert without too much left over to snack on in the middle of the night.

Quick, easy, and delicious. The topping seemed a little too salty, I will probably reduce the salt to 1/4 tsp next time. I may also reduce the splenda in the filling. I thought it was too sweet but DH and the kids liked it as is. 5/8 cup = 1/2 cup + 2 tablespoons 1/8 cup = 2 tablespoons
Preheat oven to 350 degrees.
Mix first three ingredients (blackberries, 5/8 cup Splenda and 1/8 cup flour) and add to an 8x8 glass baking dish.
For the batter, combine the remaining 1 cup flour, 1/2 cup Splenda, baking powder and salt. Mix well with a fork and add milk and melted butter.
Cover the blackberry filling with the batter, using a spoon to smooth it out to the edges of the pan.
Sprinkle with remaining brown sugar Splenda, cinnamon and nutmeg.
Bake for 1 to 1-1/2 hours or until batter is crisp and cooked all the way through.
Allow to cool.
Serve warm with vanilla ice cream.