DuChick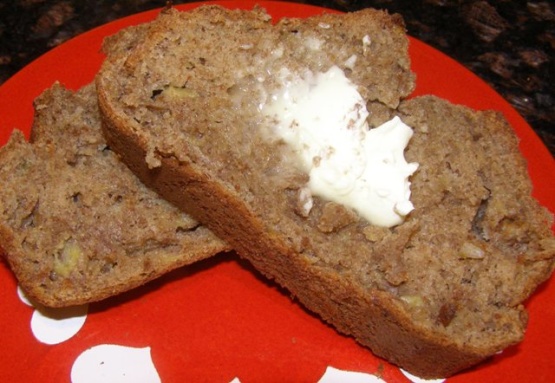 I used to make my banana bread with 2 1/2 cups sugar. This recipe has only 1/2 cup sugar. It also uses half whole-wheat flour. It is not as sweet as the banana bread I used to love, and it has a courser texture from the whole-wheat flour. But the family still eats it up like candy. Use white whole wheat flour if you can find it. Also, make sure the bananas are VERY ripe (but not rotten... yuck). Without much sugar, this recipe really relies on very ripe bananas to sweeten it.
Sift together 1st 6 ingredients (dry ingredients).
Beat eggs in large mixing bowl. Gradually add sugars and oil. Add vanilla and dry ingredients. Blend well, then stir in banana and apple sauce.
Pour into tow greased loaf pans. Bake at 350 F for about 1 hour. (Tops should be cracked and dry inside).
Cool in pans for 10 minutes. Remove from pans and cool on rack.