Low-Sodium Whole-Grain Crackers
AltaJoy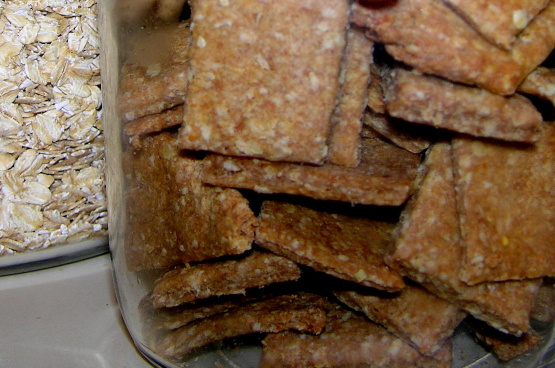 Trust me- you won't miss the salt in these crackers. I have no idea where I got this recipe, but these are sooo good. I love them. I have no idea what to compare the taste to; so you'll just have to try it yourself and find out! :]

I mixed this dough by hand but next time will use the food processor, which will take only seconds. I did add about 1/4 tsp. salt because I'm not concerned about the salt content and wanted the flavor. I would add a bit more next time. To make it easier, rather than rolling and cutting individual crackers and having to transfer them to the baking pans, I sprayed large cookie sheets without sides with Pam, and rolled the dough right on the pans all the way to the edges. Scored them with a pizza cutter, and broke apart after baking. Very easy and only took about 15 minutes. I did need to add about 2 T. more water to the dough to get it to hold together, maybe because I substituted oat bran for the wheat germ. I covered the dough with plastic wrap and let it rest for 30 minutes before rolling out. I cut the dough in half and formed each half into a square, which made it easier to roll out onto the almost square cookie sheet. Nice flavor and texture.
In medium bowl, stir together first 5 ingredients. Add water and oil. Using rubber spatula stir until dough forms. Gather dough into a ball. Divide dough in half.
On lightly floured surface, roll out each dough half to a 14 inch square. Cut each square into 3 1/2 inch squares, then cut each smaller square diagonally in half to form triangles. You may have to add a little water in every now and then if it gets too dry. Place triangles, 1/2 inches apart, on ungreased baking sheets.
Bake in 350 degree oven for 18 minutes or until golden brown. Remove from baking sheets; cool on racks. Store in airtight container. Makes 64 crackers.