Low-Fat Yogurt Chicken Fingers
megs_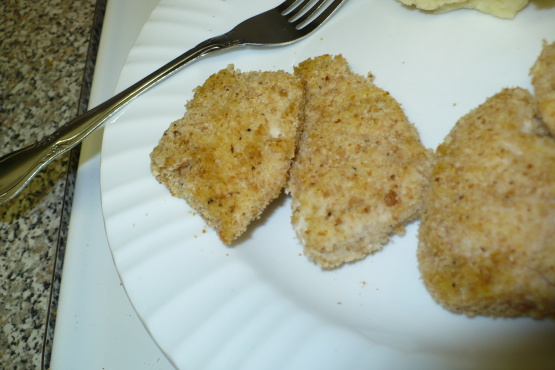 I saw this recipe on "Cooking Thin" and had to try it...SO easy. Below is the basic recipe, but I like to add parmesan cheese and Italian seasoning to the breadcrumbs and serve with marinara sauce to dip. So much better than greasy fried chicken fingers!

I am appalled that this recipe is labeled "low fat" at over 700 calories per serving and 6.8 grams of saturated fat it is no way "Low Fat". This is shameful.
Preheat the oven to 400 F and spray a baking pan with non-stick spray.
Cut the chicken breast into strips.
Coat each strip in the yogurt, then coat with breadcrumbs.
Cook for about seven minutes, then flip and cook seven more.
Serve with your favourite dipping sauce (Marinara, Ranch dressing, ketchup, mustard, honey -- etc!).