Low Fat Vegetarian Cheeseburger Salad
Annacia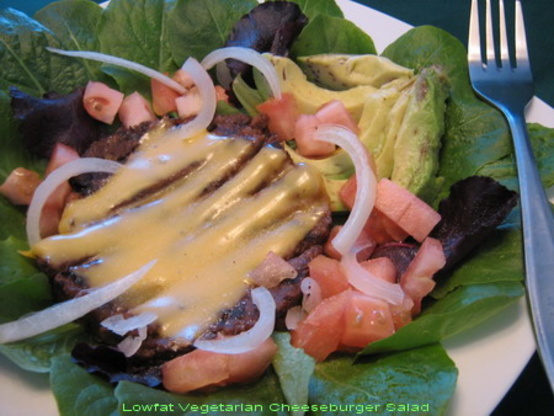 I had a cheeseburger salad at a restaurant. Really tasty, but I didn't want to know what it was doing to my arteries! So I re-did it for myself at home. This is super easy and fast. Good for a quick lunch. I love lots of ketchup, but if you don't, reduce that amount. I use a 1 point veggie burger, and 2% cheese to make this a 2 point lunch on Weight Watchers. If you're doing CORE, it would work with fat free cheese and a core veggie burger. I like this because it's fast and easy and satisfying. You could, of course, add lots of other veggies to your salad.

Wonderful idea & fun to play around with! I used a Boca burger & tossed it with some ketchup & mustard instead of adding it to the salad. A yummy, fast lunch! Thanks for sharing.
2

cups salad greens

1

slice low-fat cheese (I use a 2% sandwich slice, American)

2

tablespoons ketchup
Put your salad greens into a bowl.
Microwave your veggie burger on a plate for about 1 minute on high. Check the burger. You want hot and about ready, but not getting tough. Then add the slice of cheese and microwave for 30 seconds on high. If the cheese is not melted at that point, put it back in the microwave for 5-10 more seconds. Cut the cheeseburger into strips. Put it on top of the lettuce.
Drizzle your ketchup on top like salad dressing, or put out a little cup to dip into.