Low-Fat Vegetable and Pasta Casserole
Parsley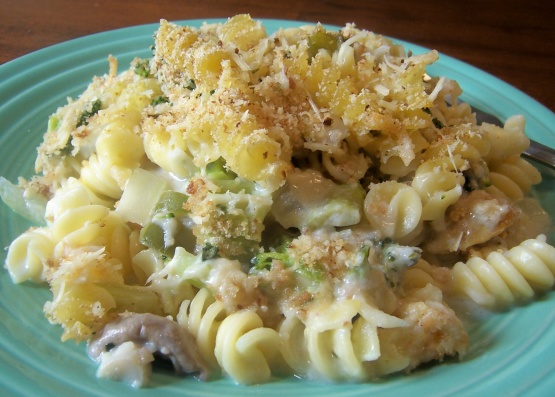 A good casserole for dieters.

This had a great texture but, like others, I found it to be bland. I used a 13 oz box of rotini (instead of 16 oz) and upped the broccoli to 4 cups. I also used a whole green pepper (which was about 1 1/3 cups). I'm not sure what you could add to boost the flavor besides salt, but it definitely needed something.
Cook pasta 6 minutes in boiling water.
Add the broccoli through bell pepper to the pasta and simmer 6-8 minutes more until pasta is al dente; drain.
Make white sauce: sauté the onions and garlic in butter 1-2 minutes in a saucepan over medium-high heat; stir in flour and milk and cook, stirring, about 5 minutes until mixture coats the back of a spoon; remove from heat.
Setting aside 2 Tbs parmesan cheese, stir the rest of cheese and the pepper into the white sauce.
Combine the pasta and vegetables, white sauce and 4 Tbs of the basil; place in 13 X 9-inch baking pan or 3-1/2 quart casserole.
Mix the breadcrumbs with the remaining 2 Tbs parmesan & remaining 1 T basil; sprinkle over the casserole.
Spray butter-flavored spray over top to coat.
Bake at 350° approximately 30 minutes until golden brown.