Low-Fat Twice Baked Potato Casserole
tbezon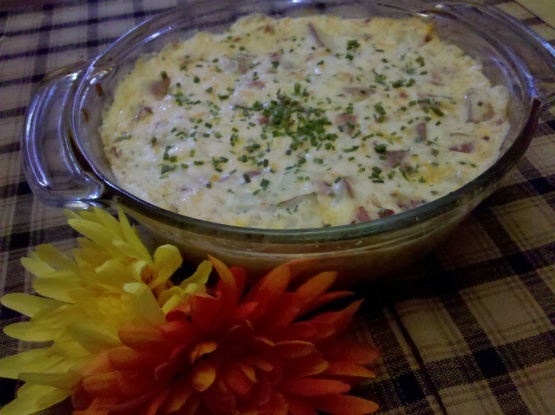 As healthy as my low-fat twice baked potatoes, but easier when cooking for a group!
Poke holes in potatoes with fork and microwave on high 10 minutes (or according to your microwave's directions) until done.
et aside to cool.
Cook bacon until crisp, then chop into small pieces.
Preheat oven to 350G.
Peel potatoes & cut into cubes (about 1").
Place bacon & potatoes in large mixing bowl. Add coarse sea salt, sour cream, cheese, half & half, and parsley. Using wooden spoon, gently toss to coat potatoes & mix ingredients evenly.
Spray 9x13" baking dish with non-stick cooking spray.
Place potato mixture in baking dish. Cover with foil & bake 2-30 minutes.
Sprinkle with flaked sea salt & serve.