Low Fat Tuna Noodle Casserole
PaulaG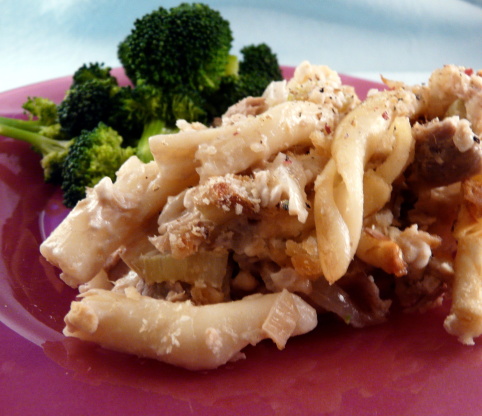 This is a quick, economical dish that is also easy on the waistline. Not only that, it tastes good too! You can prepare it ahead of time and add the crumbs just before popping it in the oven but allow a few minutes longer in the oven to make sure it is piping hot.

Tasty family meal..I have a picky 17 year old son..cleaned his plate...lol =)
Preheat oven to 425°F degrees.
Cook noodles, drain and set aside.
While the noodles are cooking in a skillet melt half the margarine over medium heat sauté the onions and celery until tender about 7 minutes; set aside.
In a bowl combine; cottage cheese and mayonnaise.
Stir in noodles and celery, onions, tuna, and Worcestershire sauce.
Salt and pepper to your taste.
Put noodle mixture in a 1 1/4-quart casserole dish.
Sprinkle with crumbs and dot with remaining margarine.
Bake until it turns golden brown (about 25 minutes).
Serve immediately.