Low Fat Tortilla Casserole (Vegetarian)
Prep 10 mins
Cook 20 mins

From our local newspaper. You can use black beans or pinto beans instead. You can use stewed tomatoes instead of the diced. You can also use flour tortillas if you prefer. Likewise, you can substitute any kind of hard cheese.
Directions
Combine the first seven indgredients in a mixing bowl and mix thoroughly.
Lightly oil a wide 2 quart casserole and layer as follows: 4 tortillas (overlapping each other to cover the bottom), half the bean mixture, half the cheese. Repeat the layers.
Bake for 15 to 20 minutes at 400 degrees or until the cheese is bubbly.
Top with lite sour cream and salsa if desired.
Most Helpful
Picked this recipe because it was fast and easy (sometimes you just need recipes like that). My local grocery store is unreliable and I could only find flour tortillas and pinto beans (preferred over kidney or black beans) in a Tex-Mex sauce. It made no difference; this casserole was absolutely great! I only used 5 small four tortillas instead of the 8 (3 on bottom, 2 in the middle). My BF and I both had seconds, and we finished about 2/3 of the recipe in one evening as a 1-dish meal. Looking forward to leftovers. Try this, I think you'll love it and I will definitely be making this again! Only one minor criticism; I think this needs more like 20-25 minutes to become hot and bubbly, and I was careful to preheat oven for 15 minutes beforehand:D Thanks!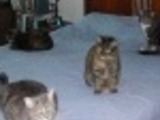 I'm giving this 3 stars for ease of prep. but I found it very bland, maybe the 1 t. of taco seasoning should not be optional, but since it was I didn't use it. Maybe the cheese should be extra sharp...whatever it needs I'm not going to make it again to find out.

This was soooo good. Very simple to throw together. Only one bowl needed to mix everything. Loved the scallions in it. Did add homemade salsa to mix along with some garlic powder. Will definitely be making this often.