Low Fat, Sugar Free Pumpkin Bread
CoffeeB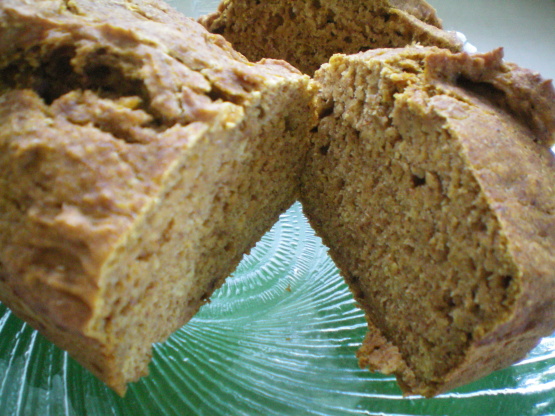 The texture of this pumpkin bread is almost better than that of its full-fat version. Yum! Perfect for anytime of day. I guarantee you won't be able to tell it's low-fat OR sugar free!

Wow, this came out so good. I made a couple of changes, I only used 1 cup of splenda, I used 1 egg instead of the egg substitue, and I omitted the oil and water and used 1/2 cup unsweeted applesauce.....oh and I added raisins and nuts. I have a sugar free, fat free friend that will love this bread. Also it was very moist because I added the applesauce.
Preheat oven to 350°F.
Combine whole grain pastry flour (Arrowhead Mills makes a great one), all-purpose flour, salt, spices, and baking soda in a small bowl; set aside.
Combine egg substitute, olive oil, Splenda, pumpkin, and water in large bowl. Gradually add flour mixture.
Pour into loaf pan and bake for approximately 45-50 minutes.