Low Fat Strawberry Banana Bread
loof751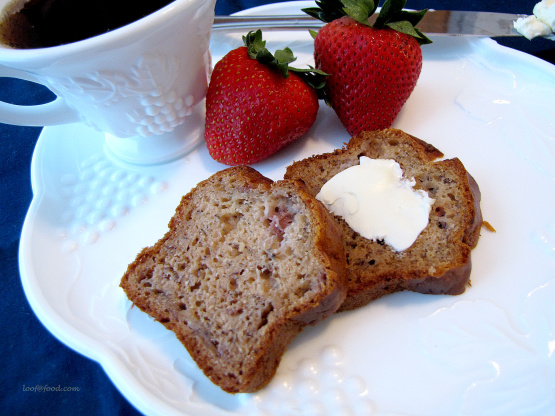 I got the idea from a friend at work and made my own version. Totally experimental, but it's smelling good as it's baking in our oven anyway...
Mash bananas in large bowl. Add hulled strawberries and mash as well.
Combine with eggs, applesauce, oil, vanilla and sugar. Combine dry ingredients in a separate bowl, add to banana strawberry mixture. Mix in chopped walnuts last.
Spoon batter into 2 standard sized loaf pans, or three medium-sized pans which have been lightly sprayed with non-stick cooking spray.
Bake in 350 degree oven for 50-60 minutes or until toothpick stuck in center of pans comes out clean.