Kree6528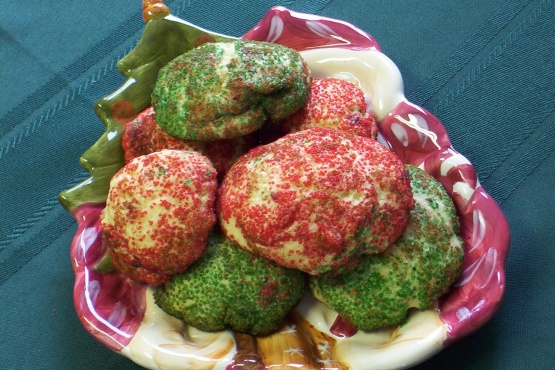 Working with this dough is a waking nightmare. I only added half of the milk and I still ended up having to add at least 2/3 cup of flour (plus several tablespoons of sugar to account for taste after adding so much flour) just to make the batter look something like cookie dough instead of cake batter. I ended up freezing it for a half hour just to make the dough firm enough to roll, as the refrigerator wasn't enough. The actual cookies weren't bad by any means, but they only had hints of 'snickerdoodleyness' and I have a suspicion that that only came from rolling them in cinnamon and sugar. They were large and puffy and kind of like a cakey scone (as I think someone else mentioned). So if anyone has any doubts, add the moisture to these very, very slowly so you don't have to make extra work for yourself. I'm marking this as 3 stars because they're pretty good cookies, just disappointing if you're looking just for snickerdoodles.
Preheat the oven to 400 degrees.
Spray a baking sheet with nonstick cooking spray and set aside.
Mix together the butter and sugar, add the egg whites and beat well.
In another bowl, combine the flour, cream of tartar, baking soda and salt.
Add the buttermilk and the dry mixture to the butter mixture, and stir to combine.
Combine the cinnamon with the 2 tablespoons of sugar.
Taking a teaspoonful of dough at a time, roll the dough into a ball in your hands, then roll it in the cinnamon-and-sugar mixture.
Place on the prepared baking sheet 2 inches apart and bake in the preheated oven for about 8 minutes, or until lightly browned.