Low Fat Shrimp or Crab Coleslaw
Peter J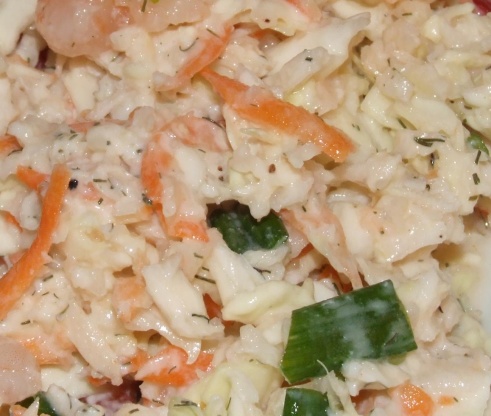 Using a low fat yogurt in the dressing makes this healthier without losing out on the taste. Fresh or imitation crab can be used in place of the shrimp, or you can mix the two. Cook time includes chilling time before serving. I adapted this from the book: Quick and Healthy Recipes and Ideas when I wanted an easy and healthy lunch side dish. ZWT REGION: Asia.

Very nice. I used both fresh blue crab meat and fresh shrimp. I had only 1 green onion so I used a little finely chopped red onion as well. I had a lot of slaw (more than 5 cups cabbage) and only 2 small 6 oz cups of plain yogurt so I added a little ranch dressing cut with more rice vinegar. Very adaptable recipe. We had it as dinner along with my homemade oriental chicken salad. AWESOME! This one's a keeper!!
Combine all of the coleslaw ingredients and mix well.
Combine all of the dressing ingredients and pour over the coleslaw mix.
Chill for at least 1 hour before serving.